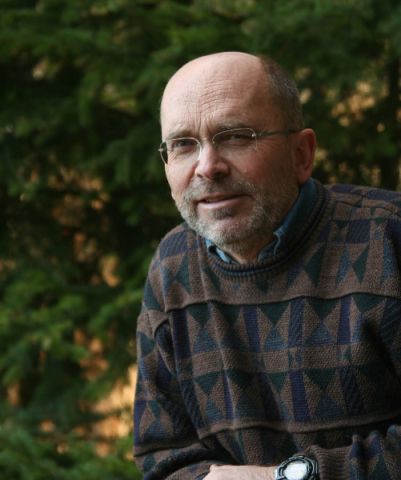 Peter Kiidumae
Biography
Peter was born in Germany to Estonian parents. At the age of four he moved to Australia with his family where they resided for ten years. Six of those years were spent in a remote outback area where Peter developed a keen interest in drawing.
After he moved to Canada in 1960, Peter took art courses throughout high school and at the University of Toronto where he studied Architecture for three years. After a 25-year hiatus from creating any artwork while focusing on building a business career and raising a family, he moved to Vancouver. For almost nine years he and his wife lived aboard their 45-ft sailboat moored at Granville Island, cruising the scenic BC and Washington coastlines on weekends and vacations. During this time, he returned to pencil drawing and in 2004, began painting in acrylics, now his medium of choice.
In 2007, he was accepted as an Active member of the Federation of Canadian Artists, and for 5 years he served on the Board of Directors for that organization.
Peter paints in his beachfront Nanoose Bay boat house studio in a realism style covering a broad range of subject matter inspired primarily by his British Columbia surroundings. His work can be found in many private collections across Canada as well as on a few sailing magazine covers.
Associations
Federation of Canadian Artists
Shows
2022 Sooke Fine Arts Show, Sooke, BC. "Island in the Sun" - sold
2019 Sidney Fine Art Show, Sidney, BC. "Above the Clouds" - Peoples Choice Runner Up
2018 Solo show "Islands and Ravens", McMillan Arts Centre, Parksville, BC
2017 FCA juried "Canvas Unbound" show, Federation Gallery, Vancouver 2nd Prize: "Raven Rock"
2016 FCA juried "Canvas Unbound" show, Federation Gallery, Vancouver
2016 "Annual International Representational Show", Federation Gallery, Vancouver
2014 FCA juried "Scenes From Western Canada" show,Federation Gallery, Vancouver
2013 FCA juried "Landscapes" show, Federation Gallery, Vancouver
2012 FCA juried "Small, Smaller, Smallest" show, Federation Gallery,Vancouver
2012 FCA juried "Autumn Salon" show, Federation Gallery, Vancouver
2011 Solo show "Journeys", The Old School House Arts Centre, Qualicum Beach
2011 FCA juried "Canvas Unbound" show, Federation Gallery, Vancouver
- Award of Excellence: "Three Pelicans"
2011 FCA juried "Autumn Salon" show, Federation Gallery, Vancouver
2010 FCA juried "Landscapes" show, Federation Gallery, Vancouver
2009 FCA juried "Landscapes" show, Federation Gallery, Vancouver
2009 FCA juried "Canvas Unbound" show, Federation Gallery, Vancouver
2009 FCA juried "A Bird, A Stone, A Letter" show, Federation Gallery, Vancouver
2008 Sidney Fine Art Show, Sidney, BC
2008 Designers Island Art Auction, Nanaimo Art Gallery
Publications
"So Much to Paint, So Little Time" - Art Avenue, Mar/April, 2010